Installing & Repairing Geothermal Heating in Charlottesville, VA
Before installing any new heating or cooling system in a home, it is necessary to reevaluate and reduce the energy load of the home. Geothermal heat pumps can be easily integrated with existing systems such as traditional forced air or radiant floor heating or can be installed in a new building. Forced air systems will require a water-to-air heat pump while hydronic radiant heating systems will require water-to-water heat pumps. The size of geothermal heat pump and the size of ground loop required depends on the heating and cooling requirements for your home and is critical in ensuring the efficiency and performance of the system.
Geothermal systems are built to last – after all, they do have an average lifespan of up to 50 years – but that doesn't mean they won't ever have repair issues. There can be some concern over geothermal repairs because parts of the system are so different from more traditional heating systems, but when you hire trained experts, like the ones from Zephyr Environmental Solutions, you can rest assured that your geothermal heating repairs in Batesvill, Charlottesville, Covesville, Crozet, Dyke, Earlysville, are in good hands. Call us today at 434-363-4565 for geothermal heating system installation and repairing service with free estimate!
Selecting the Geothermal Heat system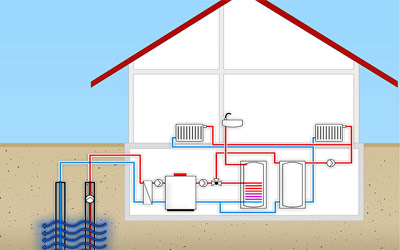 If you want to choose a geothermal heating system, don't forget the following things: Energy Efficient Heat Pump: You should choose an energy efficient pump, this can be measured by the COP (coefficient of performance) and EER (energy efficiency rating). The COP and EER measure its cooling efficiency. If you want to select the energy efficient system, then look for the certification label that indicates 2.5′ COP and 13′ EER.
Check Hydrological and Geological Features of Land: If you first determine, the hydrological and geological features of a place, where you want to install geothermal heat pump, then you would be able to select the best system for your place. For instance, if there is surface water body on your place, then an open-source unit might be the right choice and if installation place is limited, then, you should select horizontal closed-loop unit.
How Much Pay for Heat System?
Though, a geothermal system must save your money in maintenance and operating expenses, still you have to save initial cost. Roughly, geothermal system of three tons will cost you about $7,500, a normal home. You always explore incentives and financing options before buying from us.
Installation Process of Geothermal Heat System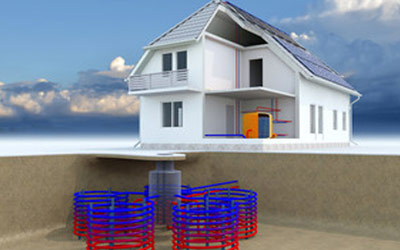 Once you are done with selection and buying them, installation process gets started, with your trustworthy and expert contractor from Zephyr Environmental Solutions. We have has been doing this work since long period. We also have had a proven record of well satisfied customers, with fair offering prices.
Maintenance of Geothermal Heat system
The maintenance of this system is vital. A well-maintained system, eliminate the unforeseen breakdown. It is necessary to check the filter & change, when the need arises, because filters and fan lower its performance. We are here to help you with the proper maintenance of your geothermal heating system.
Working with a Professional You Can Trust
We are licensed and trained to provide the best care for your system, they also have the ability to diagnose exactly what is going on so you don't have to worry for days or weeks waiting to figure out what the issue is. In contrast, working with an amateur presents the risk of misdiagnosis or even a fix that is done wrong that can further harm your system and lead to an early replacement.
At Zephyr Environmental Solutions, we can promise that our trained and experienced staff will be able to provide the best services for your HVAC system. We also provide service for emergency HVAC repair, HVAC maintenance, home energy solution, duct cleaning and many more! So hurry up and call us today at 434-363-4565 contact us online to get our services asap.