Duct Installation Services around Charlottesville, VA
Large quantities of air are circulated through the ductwork in your home, which connects the air handler to the vents located in each room. Hence, if the ductwork is damaged, your heating and cooling systems won't function as effectively as they could, and a new duct needs to be installed.
Experts at Zephyr Environmental Solutions, are here to help you out. We have been providing the most effective duct installation services for a long time. Our professionals have the necessary qualifications, levels of ability, and experience to install new ducts to the highest standards. Reach us by dialing 434-363-4565 to take services from us.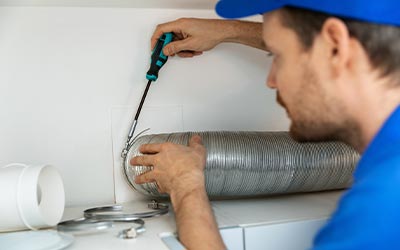 Why Do You Need Duct Installation Service?
An air vent duct system is a type of HVAC ventilation system that can help you maintain the temperature of your room or office under control and the flow of air moving in a consistent pattern. An air vent duct system typically improves the efficiency of a ventilation system significantly.
The duct system's blowers and fans help to remove stale, polluted air from the home and replace it with fresh air from the outside. Moreover, a functional duct system reduces your home's energy bill by maximizing the efficiency of your heating and cooling systems and ensuring that all refreshed air reaches the occupied spaces. This is why you need duct installation service from Zephyr Environmental Solutions.
Choose Zephyr Environmental Solutions for Duct Installation Service
Anytime you feel the need of installing a new duct at your home or office, contact us right away. Our services are available in Charlottesville, Palmyra, Ruckersville, Scottsville, and throughout the towns in Central Virginia.
We also provide duct sealing, HVAC repair, water heater installation, AC installation, etc services. If you're interested in our duct installation service or any of our other services, please contact us at 434-363-4565, or contact us online for more details.