Home Energy Evaluation in Charlottesville & Central VA
A home energy evaluation, also known as home energy audit, provides a homeowner with accurate information about money that is being wasted on utility bills while heating and cooling a residential property. The purpose is to identify air leaks in an effort to make the property more airtight and energy-efficient. Zephyr Environmental Solutions provides top-quality energy evaluations for customers in Charlottesville, Faber, Crozet, Scottsville, North Garden, and throughout Central Virginia.
4 Reasons to Focus On Energy Efficiency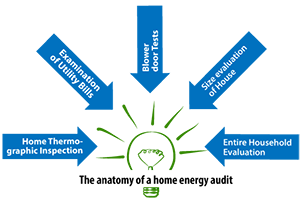 Simply put, a home energy evaluation is a thorough assessment of your home's energy use and a study of the possible solutions you can take advantage of in order to make your home more energy-efficient. Correcting existing problems or areas that have become money pits will translate to significant energy savings over time for homeowners in Central Virginia.
Schedule a
FREE

Estimate

We offer a FREE on site inspection and estimate for heating, cooling and insulation services.
---
Benefits of a Home Energy Audit by Zephyr Environmental Solutions
When you receive a home energy audit from Zephyr Environment Solutions, it is beneficial to a homeowner in many ways. Our trained technicians will provide:
Evaluation of the size of the house and its existing features
Room-by-room evaluation of the entire house for energy-efficiency, including inspection of doors, windows, HVAC system, ductwork, and insulation
Examination of utility bills in comparison to comparable area homes
Use of blower door tests to determine the airtightness of your home
Thermographic inspection of your home using an infrared camera to discover air leaks and abnormalities in its thermal quality
To get the most benefit from a home energy evaluation, you must prepare properly before the technician arrives. That includes taking these important steps before your auditor arrives:
Prepare copies of your utility bills for at least the past year, as preferably longer.
Make a list of how many people live in the house, how many hours per day someone is at home, your typical thermostat setting for each season, your typical electrical usage and what energy-efficient features you have and seek to add.
Make a list of current issues, like whether specific rooms have inconsistent heading & cooling issues.
Get Your Utility Bills Under Control with a Zephyr Home Energy Audit in Charlottesville
A home energy audit is a comprehensive evaluation of your home's energy performance to determine the best opportunities you have for saving energy and curtailing expenses. Zephyr Environmental Solutions provides superior home energy audits in Albemarle, Batesville, Fork Union, Keswick, White Hall, and throughout Central VA. When you need our services, give us a call at 434-363-4565 or send us a message through our contact page.
Recent Home Energy Evaluation Jobs