Know How to Stop Water Heater Leaks in Charlottesville, VA
When the water heater leaks and water is seeping through, the situation becomes very serious. Leaks in this busy equipment are often an early warning indication of more significant concerns. As soon as you find that your water heater is leaking, you must take measures to fix the problem. It's easy to underestimate the seriousness of the situation when a water heater starts leaking, but a leaky water heater can cause serious issues like mold growth. Now the question raises, how to stop a water heater leak?
It's always a good decision to call HVAC professionals to stop the water heater leak. Because they have the extensive knowledge and experience to make the job done more efficiently and professionally. Zephyr Environmental Solutions is the company to call when you face such a hazard. You can stay assured when you call us. Don't hesitate to call us at 434-363-4565 to know more about our services.
Is It Dangerous to Have A Hot Water Heater That Leaks?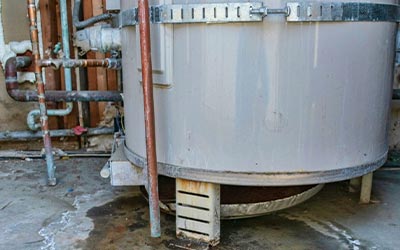 Many homeowners often remain confused about this. In a nutshell, the answer is "yes," because of the potential for harm. The pressure in the tank rises as water heats, and the safety valve's job is to relieve that pressure. If this safety feature isn't functioning properly, the appliance could explode. This is why it's important to get a leaky tank for the hot water heater checked right away.
The more probable outcome is that water damage to your home will occur due to the leak. Most construction materials are porous, meaning they will absorb water and get damaged if exposed to prolonged periods of dampness. Another favorable condition for mold growth is a constant supply of water. So you need to take steps as soon as possible to stop water heater leaks.
Rely on Zephyr Environmental Solutions for Water Heater Leaks Repair
Whether you need water heater replacement, water heater repair, water filtration service, or water heater leak repair, Zephyr Environmental Solutions is here to assist you. Because of our certified technicians, we are able to offer you the best and most affordable repair services. Call us at 434-363-4565 or click here to know more about our services in Ivy, Keene, Kents Store, Keswick, and throughout our service area.