Geothermal Cooling System Installation in Charlottesville
With an increased emphasis on reducing energy emissions and carbon footprints taking center stage, geothermal cooling systems have become popular with homeowners across Charlottesville, Albemarle, Keswick & other cities throughout Central VA. Over time, incorporating new technologies has made geothermal systems a viable alternative to more conventional HVAC systems.
Geothermal cooling systems, also called Ground Source Heat Pumps (GSHP), provide cooling by exchanging heat with the ground. This system takes advantage of the fact that the ground temperature remains relatively constant throughout the year, ranging from 45 to 75 degrees Fahrenheit. Depending upon the season, the ground can serve as a heat source or a heat sink to enhance energy efficiency. At Zephyr Environmental Solutions, we install geothermal cooling systems for homes and businesses in Keene, Kents Store, Lovingston, Palmyra, Ruckersville, and other Virginia cities. To learn more, call 434-363-4565 or click here to make an appointment for services ASAP.
Benefits of a Geothermal Cooling System by Zephyr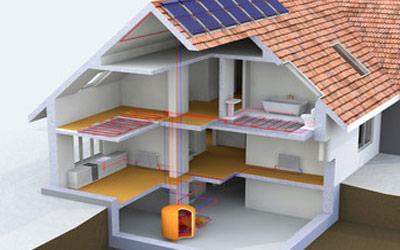 When a geothermal cooling system is working efficiently, it doesn't require extensive maintenance. It works in harmony with the temperatures in the ground to provide heating in the winter and cool air in the summer, keeping the temperature of your home comfortable.
Geothermal cooling systems, despite costing a lot to initially set up, boast lower operating costs over time than traditional heating systems. They need few repairs and use very little electricity.
Geothermal cooling systems are also built to last. The average lifespan of a geothermal system is 24 years, compared to the lifespan of 12-15 years for traditional HVAC systems. If properly maintained, geothermal HVAC systems have even been known to last up to 50 years! With a system lasting this amount of time, you'll certainly see a return on investment should you choose to purchase a geothermal HVAC system.
Let Us Install Your Geothermal Cooling System in Batesville & Charlottesville
At Zephyr Environmental Solutions, we're here to help you choose and maintain the perfect HVAC systems for your home or business. Whether you're interested in a geothermal or traditional system, trust your local Zephyr Environmental Solutions to advise you every step of the way. We also provide services for emergency HVAC repair, HVAC maintenance, home energy solution, duct cleaning, and more! Call 434-363-4565 or click here to get our services ASAP in Batesville, Charlottesville, Albemarle, and other cities that we serve.