Packaged Terminal AC Installation in Charlottesville
For the most efficient zoned heating and air conditioning systems on the market, your best choice is to install a Packaged Terminal Air Conditioner (PTAC) in your home or office. For years, our IICRC-certified technicians have been providing superior cooling solutions for homeowners and business owners in Keene, Kents Store, Lovingston, Palmyra, Ruckersville, and other Virginia cities that we serve.
Zephyr Environmental Solutions offers the products and services to make sure that your HVAC system is running perfectly, including the installation, repair, and cleaning of your ductwork. We serve customers throughout Central Virginia and offer the most reliable Packaged Terminal AC (PTAC) installation services available. To learn more, call 434-363-4565 or click here to make an appointment for services.
Benefits of Packaged Terminal Air Conditioners by Zephyr
Installing a packaged terminal air conditioner can provide a number of benefits over a traditional central air conditioning unit, including: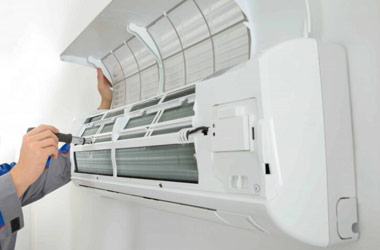 Effective heating and cooling for an entire room.
Most packaged terminal air conditioners also have detailed panels with options to control the temperature very precisely.
Easy installation. Packaged terminal air conditioners are fairly easy to install, usually plugging right into a regular wall outlet.
Zoned heating and cooling. Since you can install a different system in every room, and each one can be operated independently, you can maximize your energy savings by only cooling rooms that are occupied.
Reduced heating costs. When used properly, packaged terminal air conditioners can help reduce heating costs by up to 20%.
Why Choose Zephyr Environmental Solutions?
Our team at Zephyr Environmental Solutions consists of only experienced, licensed, and background-checked HVAC technicians to ensure that your heating or air conditioning repair or upgrade is done right the first time, every time. For emergency HVAC repairs, a home energy evaluation, duct sealing, or other heating and air conditioning services, give us a call at 434-363-4565 or click here to schedule services today at your property in Charlottesville, Keene, Keswick, Lovingston, Shipman, and surrounding areas in Central Virginia. We guarantee you will get a fair price and great services whenever you contact Zephyr!